Razzamataz Scholarship competition

Win a year's scholarship at Bristol North Razzamataz.
Last date for entries is Thursday 28th February 2019.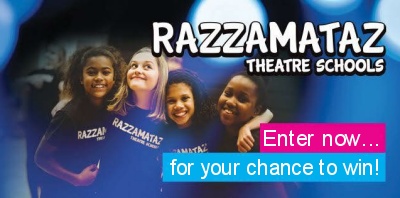 Have YOU got potential?
Love performing arts but not had formal training in dance, drama or singing? We have an incredible opportunity for you to unleash your potential!
It's raw talent we're looking for!
How to enter? It's easy! Just fill in your details below, and we'll select six children at random. These applicants will be invited to an audition (date to be confirmed), and the child who shows the most dedication and focus will win the scholarship.
What do you win? LOTS!
A year's FREE tuition, over 100 hours of exceptional performing arts tuition, worth up to £800!
PLUS, the opportunity to take part in an annual variety showcase, local performances, auditions and specialist workshops.
Applicants who are new to Razzamataz are also invited to a FREE taster session to see what your local Razzamataz has to offer.
Competition is open to current and non-Razzamataz students aged 6-18 years. Prize is non transferable and not to be used in conjunction with any other offers (i.e. sibling discount). No cash alternatives.
How to contact Razzamataz
If you have any questions about Razzamataz Theatre Schools, please get in touch:
Razzamataz Bristol North, Yate Academy, Sundridge Park, Yate, BS37 4DX
Tel: 0800 024 6161
Email: bristolnorth@razzamataz.co.uk
Web: www.razzamataz.co.uk/schools/bristol-north