Chipping Sodbury Library
How to contact Chipping Sodbury Library

Address: High Street, Chipping Sodbury, BS37 6AH
Phone: 01454 868006
Email:
Website: www.librarieswest.org.uk or www.southglos.gov.uk/libraries
Volunteer Opening Hours
| | |
| --- | --- |
| Monday | Closed |
| Tuesday | 9:30am-12:30pm & 1.30pm-4.30pm |
| Wednesday | 9:30am-4:30pm |
| Thursday | Closed |
| Friday | 9:30am-12:30pm |
| Saturday | 9:30am-12:30pm |
| Sunday | Closed |
Latest News
With the help of the Gruffalo, Chipping Sodbury library was successfully relaunched in October as a Community Library run by volunteers.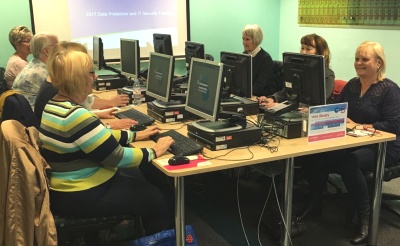 It continues to offer the same services as it did before and, in addition, is open all day on Wednesday when Yate library is shut.
South Glos libraries installed a brand new self-service machine and so far, apart from the odd hiccup, all is going well.
The large team of volunteers are enthusiastically learning the ropes and are very grateful for the patience being shown by users.
They are more than happy to give their time to keep the library open and enjoy helping people get the most out of it.
A lot of effort went into persuading South Glos Council not to close the library, so please come in and use it so that we can prove to them that they made the right decision.


About the Library
Following a campaign by local residents, who formed a Friends of Chipping Sodbury Library group, South Gloucestershire Council agreed not to close Chipping Sodbury Library as part of their 2017 savings measures.
A call for volunteers resulted in over forty people coming forward to help and, with support from Sodbury Town Council, they now staff the library so users can continue to enjoy it.
South Glos Libraries continue to provide books, CDs, DVDs and IT support for the three computers


Hawkesbury Upton Community Library
This runs fortnightly on Friday afternoons at Hawkesbury Upton Village Hall, to mirror the time that the Mobile Library used to be operational in the area.
Along with the other community libraries, Hawkesbury Upton is a volunteer-run library supported by S Glos libraries and your normal library card can be used there.