Chipping Sodbury Library
Next event
Saturday 7th July 2018
9.30am: Free Legal Advice Session
Yate Library
In difficult times, you need legal advice designed to suit your particular circumstances.
Anne and Lynn of Bevan Evemy Solicitors offer free legal advice sessions on the first Saturday of every month, in private rooms.
They start at 9.30 when the library opens and just go through until 1 o'clock. It is best to call them to make an appointment as quite a few people often turn up, but if you just want to pop in, then there is not usually a very long wait.
Bevan Evemy is an independent, progressive firm of family law solicitors, employment solicitors and expert civil litigation solicitors. They have offices in Yate and Chipping Sodbury. Click below to find out more.

mysodbury.co.uk/sodbury/d/14241/b...

---

How to contact Chipping Sodbury Library
Address: High Street, Chipping Sodbury, BS37 6AH
Phone: 01454 868006
Email:
Website: www.librarieswest.org.uk or www.southglos.gov.uk/libraries
Volunteer Opening Hours
| | |
| --- | --- |
| Monday | Closed |
| Tuesday | 9:30am-12:30pm & 1.30pm-4.30pm |
| Wednesday | 9:30am-4:30pm |
| Thursday | Closed |
| Friday | 9:30am-12:30pm |
| Saturday | 9:30am-12:30pm |
| Sunday | Closed |
About the Library
Following a campaign by local residents, who formed a Friends of Chipping Sodbury Library group, South Gloucestershire Council agreed not to close Chipping Sodbury Library as part of their 2017 savings measures.
With the help of the Gruffalo, Chipping Sodbury library was successfully relaunched in October 2017 as a Community Library run by volunteers.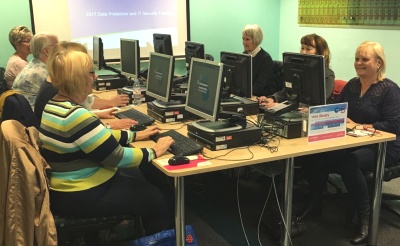 South Glos Libraries continue to provide books, CDs, DVDs and IT support for the three computers, along with a self-service machine.
A call for volunteers resulted in over forty people coming forward to help and, with support from Sodbury Town Council, they now staff the library so users can continue to enjoy it.
It continues to offer the same services as it did before and, in addition, is open all day on Wednesday when Yate library is shut.
The large team of volunteers are enthusiastically learning the ropes and are very grateful for the patience being shown by users.
They are more than happy to give their time to keep the library open and enjoy helping people get the most out of it.
A lot of effort went into persuading South Glos Council not to close the library, so please come in and use it so that we can prove to them that they made the right decision.


Hawkesbury Upton Community Library
This runs fortnightly on Friday afternoons at Hawkesbury Upton Village Hall, to mirror the time that the Mobile Library used to be operational in the area.
Along with the other community libraries, Hawkesbury Upton is a volunteer-run library supported by S Glos libraries and your normal library card can be used there.






Forthcoming events
Saturday 7th July 2018
Saturday 4th August 2018
Saturday 1st September 2018
Saturday 6th October 2018
Saturday 3rd November 2018