Chipping Sodbury Street Pastors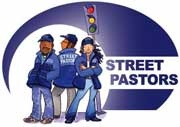 We are a small dedicated group of Street Pastors who patrol in Chipping Sodbury on a Saturday night, supported by a group of Prayer Pastors.
We welcome those from local churches who are interested in joining us in either role.
We have come together seeking to serve the community, with the intention to Care, Listen and Help.
The Reverend George Baxter, Chair of the Chipping Sodbury Street Pastor Management Team, says:
"Street Pastors is another wonderful opportunity for the Churches to share our responsibility to our community in very practical ways. This is a significant step forward for the Churches of this area as we commission some of our members to work together late at night on the streets of the town. It is also a privilege to work together with those who are already doing a great job helping to keep the town safe for those on the streets.
We want to share the vision with all our Church members and the wider local community. With their support and enough additional volunteers we would love to see this spread, late Friday/Saturday nights, to other places in the Chipping Sodbury/Yate area of South Gloucestershire".
John Bartlett, a representative of the Ascension Trust, the parent body of Street Pastors nationally comments:
"Street Pastors now operates in over two hundred cities and towns across the UK.  This phenomenal growth is testament to the way that Street Pastors is impacting communities.  The simple formula of listening, caring and helping has resulted in significant falls in crime and incidents wherever the scheme is in place."
Welcoming the prospect of Street Pastors in Chipping Sodbury, Steve Mills, a volunteer in training to be a street pastor, says:
"I am looking forward to being a member of the Street Pastor team and contributing fully to this new venture in Chipping Sodbury."
Volunteers are over 18, active church members and willing to complete a challenging programme of training including sessions on youth culture, drugs and alcohol. A Criminal Records Bureau Check is required and references are obtained before joining a team of at least four people, each of whom will work a minimum of one night a month, from 10pm to around 2am. A distinctive uniform is worn when on patrol and radio communication is maintained with the community's CCTV control centre, police and licensed premises' door staff.
Inspector Deryck Rees, of Avon and Somerset Police gives his opinion of Street Pastors:
"They have proven in many areas up and down the country that they have a hugely positive impact on the communities they operate in and I am excited about them working in Chipping Sodbury".
Police forces across the UK have welcomed the development of Street Pastor teams which have contributed to a significant reduction in crime levels, sometimes dramatically.
For more information, please contact Rev George Baxter, Chairman Chipping Sodbury Street Pastors, by email: or visit: www.streetpastors.co.uk.