Chipping Sodbury Victorian Day
Next event
Saturday 7th December 2019
12noon: Chipping Sodbury Victorian Day
Broad Street, Chipping Sodbury
12-8pm, along Broad Street and High Street, Chipping Sodbury
The streets will be lined with stalls from local charities and organisations and old time amusements, including a Ferris wheel, Helter Skelter and children's rides.
Father Christmas will be there, choirs will sing, bands will play, and a traditional market including a Hog Roast will be held in Broad Street and High Street.
Come along and join us for your late night Christmas shopping with shops open throughout the evening. As usual the streets will be lined with Christmas lights and trees, decorated by local schools and nursery groups... and much, much more for all the family.

www.mysodbury.co.uk/sodbury/chipp...

---
Click to see more events for Chipping Sodbury Victorian Day .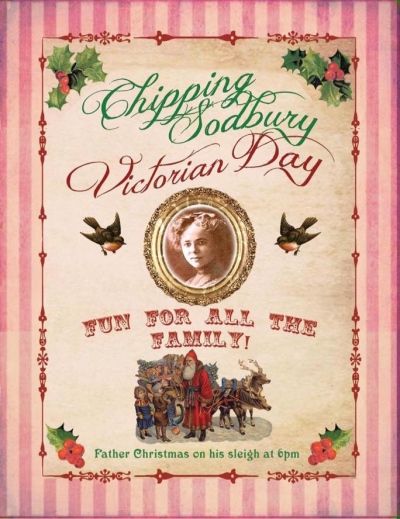 Booking for Stalls Now Open
2019's Chipping Sodbury Victorian Day will go ahead Saturday 7th December 12-8pm.
To request a booking form please email .
All information for stallholders, set up times etc., will be on the booking form.


Join the Helpers
Our committee is smaller than ever with only 9 members
We as always welcome anyone who'd like to join the committee to volunteer their time for this great event. Please get in contact for information on the next meeting dates.
For more information, please contact Alice and Amy on , email or visit facebook.
We are also looking for helpers on the day. Alice and Amy are desperately seeking volunteers for the morning of Victorian Day (Saturday 7th December) 9-11.30am to help direct stall holders to their pitches. If you can help on the day of Victorian Day and would like more information, please email .


About Chipping Sodbury Victorian Day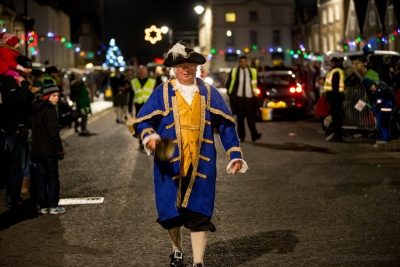 Every year in the first week of December, The Chipping Sodbury Victorian Day heralds the arrival of Christmas in the town.
As if by magic, Chipping Sodbury is transformed into a wonderland of delights.
The High Street and Broad Street are filled with Side-Shows, a Helter-Skelter, a Big Wheel, Steam Engines, Fair-Ground Organs, Father Christmas and even roasting chestnuts!
The event launches with school choirs performing in the street, followed by entertainers on two stages.
Father Christmas in his sleigh parades through the town headed by a Scottish piper.
The streets are lined with stalls from local charities and organisations, and many people dress up in Victorian costume to enhance the atmosphere.


What to look forward to
Previous Victorian Day entertainment has included: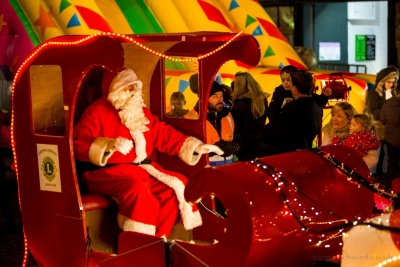 School choirs
Carol Singing
Dodington Parish Band
Traditional Pipe & Drums
Bristol Morris Men
Alfredo the Magical Clown
Punch and Judy
Nativity Crib Festival in St John's Church
Traction Engines
Traditional Fairground Organ
Traditional Fairground Rides
Hog Roast
Mulled Wine & Mince Pies
Hot chestnuts
Turkey Rolls
Sodbury Players
Competitions for best dressed window and best dressed staff
Guaranteed now, thanks to a snow machine
Santa's Sleigh Ride – from Wick Road, along the High Street and up to The Boot, where Santa turns and parks next to his Grotto
Charity stalls
...plus lots more!
Where to park on Victorian Day
While there is limited parking on the High Street, Chipping Sodbury's free car park, Waitrose, Bowling Hill and the Cow Mills and surrounding estates are available for parking.
Unfortunately there is no close disabled parking other than places in the town car park.
Please note that Chipping Sodbury's Broad Street, High Street, Hatters Lane, Wickwar Road and Hounds Road will be closed to all traffic 12-8pm.


About the Committee
The entire event is organised by a team of dedicated volunteers who strive each year to make it more exciting than ever before.
The committee is drawn from the Sodbury and Dodington Councils, Chipping Sodbury Lions and Rotary Clubs, the Festival Society and representatives from local schools and traders.
For more information, please contact Alice and Amy on or visit facebook.
The photographs on this page have been kindly provided by Rich McD Photography.



Forthcoming events
Saturday 7th December 2019