The Cotswold Way in Old Sodbury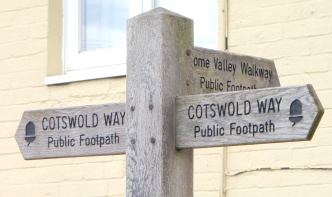 This National Footpath Trail goes from Chipping Campden south to Bath, a distance of just over 100 miles.
Approximately 19 miles from Bath the footpath passes through Old Sodbury village.
The village is a useful stopping-off point, having both accommodation for those tackling the Cotswold Way in one go, and good public transport for those doing day journeys.


Take A Break...
There is accommodation at The Dog Inn (click here to visit www.the-dog-inn.co.uk), Sodbury House Hotel and The Cross Hands (1 mile off the route) as well as Bed and Breakfasts.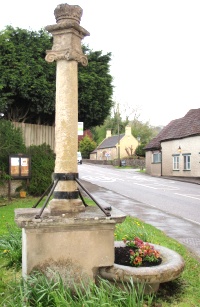 Old Sodbury is a hard one day walk, or a more relaxed two day walk, from Bath.
For a picnic lunch, or just a well-earned rest, there are seats at the panoramic viewpoint and in the nearby churchyard.
There is one seat on the village green by the Cotswold Service Station which has a limited selection of snacks.
The Dog Inn also serves hot food.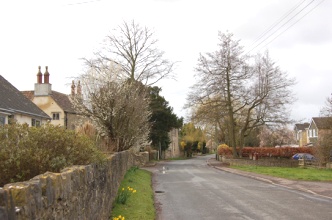 Find Your Way...
Old Sodbury has also become a major junction of long distance footpaths.
It is the start of the Frome Valley Walkway, a 20 mile walk to Bristol harbour.
The route follows the course of the River Frome, which rises at nearby Dodington Park on the Cotswold Way.
Also starting from Old Sodbury is the Jubilee Way, a 16 mile trail to the River Severn where walkers can join the Severn Way or walk across the bridge to join Offa's Dyke Trail.
Also the Monarch's Way passes through the parish.
This network of routes allows many options for long distance walkers to plan their own journeys.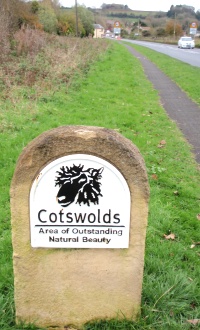 Keep A Lookout...
The Cotswold Way is regularly walked by volunteer Cotswold Wardens who clear obstructing vegetation, put in kissing gates etc.
Please report any problems on the path to Cotswold AONB.
Visit www.cotswoldsaonb.org.uk for more information.
When walking through Old Sodbury on the Cotswold Way look out for:
The two former rival Baptist Chapels in Chapel Lane, one with a small graveyard
The memorial drinking trough on the village green
The remains of medieval fishponds below the church
The Iron Age ramparts of a fort to the north of the village
Visit the Old Sodbury Times page to discover more about what goes on in Old Sodbury.
The text and images on this page have been kindly supplied by Pauline and Richard Wilson. For more information please call 310540 or email