Lilliput Park
About Lilliput Park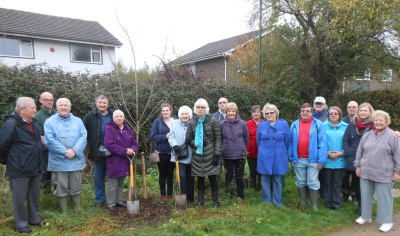 Lilliput Park is situated on Kingfisher Road, Chipping Sodbury BS37 6EB
The park is one of three play areas and open spaces provided by Dodington Parish Council.
To find out more, visit www.dodingtonpc.org.uk
Planting a cherry tree in memory of Dodington Parish Clerk Wendy Mayo who died on 6th August 2015. The photo shows Wendy's family with the friends and Landcare who supplied the tree.


"Outstanding" Success for Lilliput Park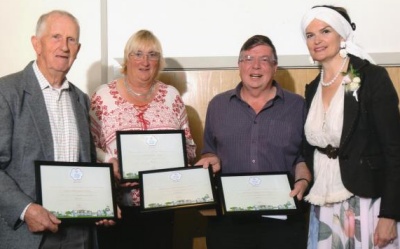 Green-fingered Friends of Lilliput Park have been celebrating their "outstanding" success in the 2016 South West in Bloom Neighbourhood awards.
The award is a testament to the work put in by the army of volunteers.
Pictured are Charles Watson (Dodington Allotments), Pat Cotterell (Friends of Lilliput Park) and Paul Hulbert receiving certificates from Lady Emma Fellowes, joint patron of South West in Bloom.
The team are delighted with their outstanding Level 5 - the highest award they can get.


About RHS Britain In Bloom
RHS Britain in Bloom is the UK's largest community gardening campaign, involving hundreds of thousands of people.
As part of RHS Britain in Bloom – and its sister campaign, RHS It's Your Neighbourhood – volunteers in cities, towns, villages, urban communities and neighbourhoods work together to improve their local environment, using gardening as a tool.
Points are awarded for:
Horticultural achievement
Environmental responsibility
Community Participation
The long term benefit of the Project will be to make a lasting improvement to the community for everyone to enjoy, young and old, residents and visitors as well as for future generations.
To find out more, visit: www.rhs.org.uk/communities


Lilliput Park Conservation Group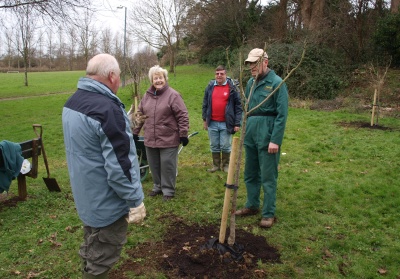 The planting of a new small community orchard 3 plum and 3 apple trees. The friends were helped by Mr Fruit aka Graham White.
We are a small group that will welcome new members.
We work at our own pace litterpicking, weeding, cutting back brambles, and pruning shrubs.
For more information, please email