Sodbury in Bloom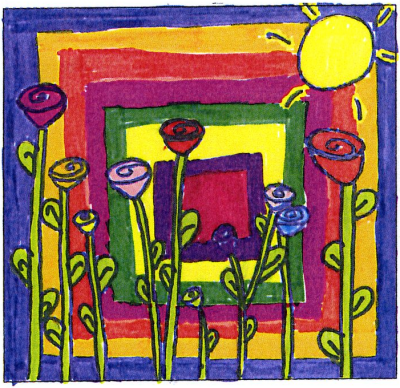 Get in touch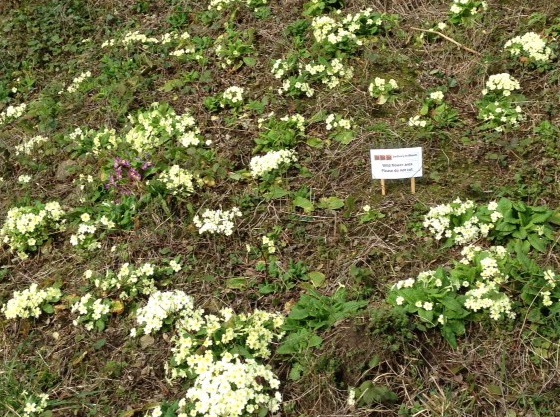 It's really important that everyone in Sodbury feels part of Sodbury in Bloom, so if you have ideas for what you'd like to see, please contact Julia Bernau at: or Pat Fryer on 01454 853736.
If you are interested in supporting Sodbury in Bloom, please click here to download and complete our registration form [.doc] and email it to Julia Bernau at: .
You can also visit us on www.facebook.com/SodburyInBloom.
The photographs on this page are kindly supplied by Rich McD Photography.


Latest News
2018 Hanging Baskets and Floral Displays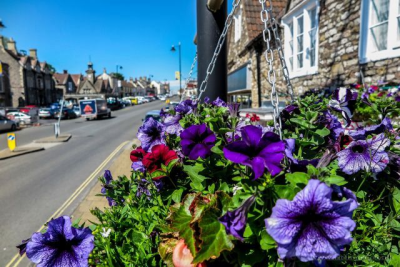 Last year Sodbury in Bloom not only won a gold award in the South West in Bloom competition but also the Ayre Cup for the best entry in our class. As usual, the judges were very impressed by all the hanging baskets and planters which really gave the town centre the 'wow' factor.
Even more businesses and residents had hanging baskets outside their premises in 2017 than in 2016. This year we are in the Champion of Champion class, competing against the other cup winners, so support from the business community so that we can do well in this class, hopefully gaining another gold award, will be very much appreciated.
This year our colours are red with a touch of white and black (there is a petunia called 'Black Velvet or a black grass, Ophiopogonin). If you have any questions or need any advice please contact Jane Lund on 01454 311180 or Julia Bernau.


Sodbury in Bloom have won Gold again!
Sodbury in Bloom got the surprise of its collective life when it discovered that not only had the Team got another Gold award in the South West in Bloom competition but were top of their group and had also won the Ayre cup.
They would like to say a big 'thank you' to everyone who helped in any way – they literally couldn't have done it without you. This award is for you as well.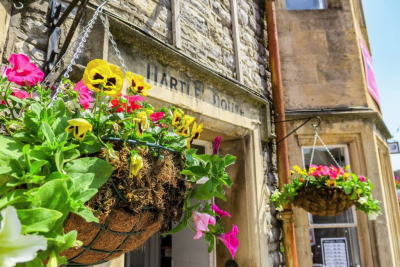 As usual, the judges were wowed by the high street so thank you to everyone who had hanging baskets and to Paul Meredith who supplied them and Bob Janes who watered them.
'Bence', the heron, was a huge hit and his admirers will be glad to hear that he has finished his tour of Chipping Sodbury (despite what it looks like on the Facebook page he didn't manage to visit all the pubs) and will shortly be taking up his perch in the boat.
The judges were also impressed by the business displays and the hare trail so 'thank you' to the Chamber of Commerce, who gave us our small hare, Harebelle, which was decorated to a design by one of the pupils from St John's Mead. The pubs, of course, did us proud and congratulations to The Bell and the Horseshoe who were winners in the Sodbury in Bloom Pub Competition 2017.
Having got the competition out of the way we have been planting out winter bedding and bulbs and carrying out the usual weeding, litter picking, etc. This year we have planted a couple of thousand bulbs so look out for the colour in the spring. You can see what we have been up to by looking at our Facebook page.
We can always do with more pairs of hands so please feel free to join us on the first Thursday in the month when we meet outside the Baptist Church at 10am. We do have January off but will be back out there in February so how about coming to join us?
We would like to take this opportunity to wish everyone a very Happy Christmas.


Community Garden

Our new project is developing a Community Garden in Chipping Sodbury. We have been allowed to develop the land behind the Sodbury Town Council offices to make a garden local people can use.
Our volunteers have been were out in the rain clearing brambles and nettles ready for paths, fencing, a shed and raised beds to go in.
There is a lot of work to do, but in the spring we hope it will be up and running and give people who don't have any outside space chance to enjoy some gardening.
If you want to know more about the project, or would like to help, please get in touch with us.
Click here to download a plan for the garden [.pdf]


Our Clean Up Team
The Sodbury in Bloom Clean Up Team meets several times a month throughout the year to carry out regular litter-picking in and around Chipping Sodbury.
If you have any time to spare you would be very welcome to join us whenever you can, as a one-off, once a month, or more regularly for what is basically a walk and a chat whilst making a big difference to the look of the town and the environment.
For more information telephone Naomi on 01454 314476.


The Sodbury Ring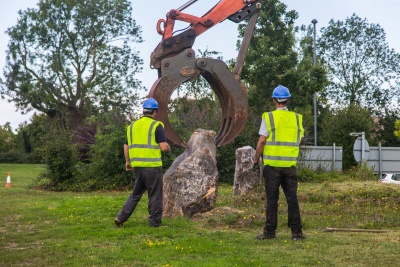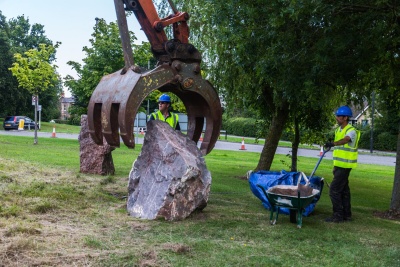 The work to realign the stones and smooth out the ground on the Smarts Green Roundabout is now complete and it all looks super.
Thanks must go to contractors Jim and James Fannon for their hard work.
The stones are positioned at the points of the compass and this ambitious project to install a ring of stones reflects Chipping Sodbury's connection with quarrying.


Gallery
Here's a selection of photos taken by Rich McD Photography:
About Sodbury in Bloom
The Sodbury in Bloom group are a small band of volunteers who are keen to welcome newcomers.
They meet 10am on the first Thursday of the month by the clock tower to garden around town.
They are also looking for people who might be willing to keep an eye on their local patch, cutting weeds back or planting bulbs as appropriate.
If you have green fingers and fancy enhancing your local patch, please get in touch.
The Sodbury in Bloom logo, seen at the top of this page, was created by Sophie Press from St John's Mead Primary School as part of a competition.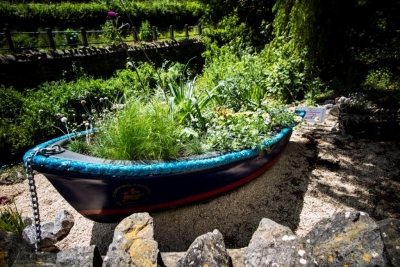 Sodbury in Bloom is also supported by:
About RHS Britain In Bloom
RHS Britain in Bloom is the UK's largest community gardening campaign, involving hundreds of thousands of people.
As part of RHS Britain in Bloom – and its sister campaign, RHS It's Your Neighbourhood – volunteers in cities, towns, villages, urban communities and neighbourhoods work together to improve their local environment, using gardening as a tool.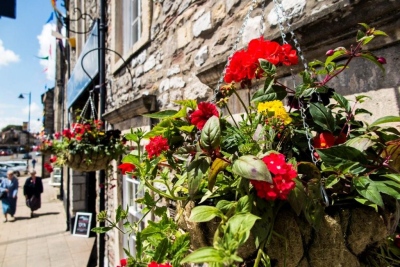 The Sodbury In Bloom committee co-ordinates Chipping Sodbury's participation in Britain in Bloom.
Points are awarded for:
Horticultural achievement
Environmental responsibility
Community Participation
The long term benefit of the Project will be to make a lasting improvement to the community for everyone to enjoy, young and old, residents and visitors as well as for future generations.
To find out more, visit: www.rhs.org.uk/communities