Chipping Sodbury Town photo
Historic Chipping Sodbury Town Hall Has New Photograph On Show
A very special photograph of Chipping Sodbury has been placed on exhibition in the Town Hall, a gift from local photographer Rich McDonough to the Town Lands charity which owns and runs the building.
Nearly a metre across, the image shows the High Street area, captured in one day in late 2009.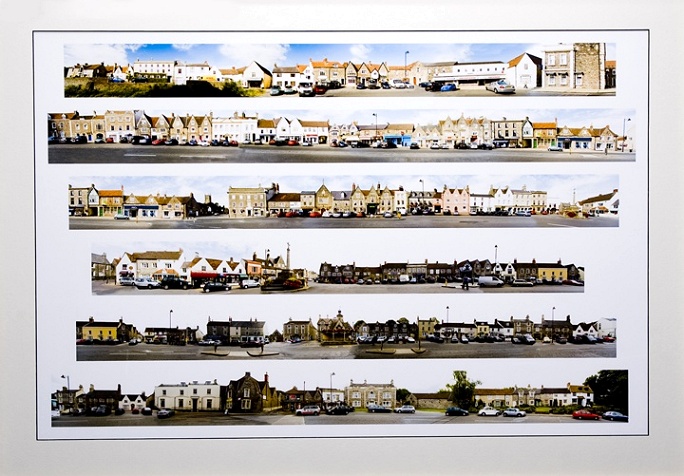 Rich, who normally specialises in portraiture, commercial and wedding photography, had been asked to take some photos of the town for use on souvenir mugs, produced by local magazine The Boundary.
However, back in his studio at Chipping Sodbury, Rich experimented by stitching together the digital images to make a panorama of what is one of the most picturesque High Streets in the country.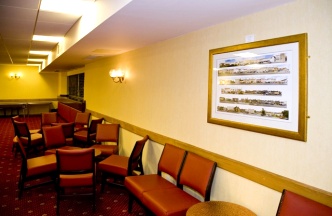 The Boundary Editor Angie Lane was one of the first to see the resulting image and commented "the picture had an immediate WOW factor, there was an amazing amount of detail."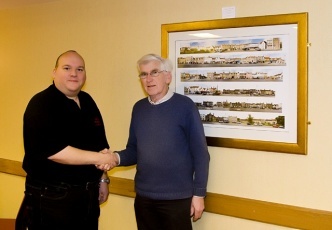 Made up of 42 separate photos, the image had taken over two months of work.
On receiving the gift, Jim Elsworth, Chairman of the Town Lands Charity, said: "Trustees of the Town Lands Charity are pleased to accept the photographic montage of all the properties in "The Street".
We are sure that display in the Town Hall lounge will create a lot of interest for the people of the town and visitors alike.
The montage, which shows the properties as they are today, contrasts and complements the early 20th century photographs in the main hall".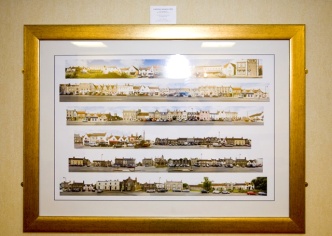 Limited edition, signed A4- and A3-size prints of the image are available at Sodbury Pavilion (25 Horse Street Chipping Sodbury) and Art & Frame (35 South Parade Yate).
Further information and high res photographs of the presentation can be obtained from Rich McDonough on 07768 033097
Click here to visit Rich McDonough's website, or email him at