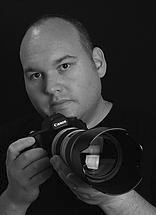 A professional photographer for over a decade, RichMcD specialises in commercial work, portraits, weddings and photography tutorials.
Rich values the community he lives and works in, so you will often see him in Chipping Sodbury High Street and at local events - and if you've stood still for too long, he's likely to have taken your photograph...
RichMcD documents local life through his camera lens, creating a vast legacy of images for us all to enjoy, now and in the future. He also eats lots of ice-creams!
Working tirelessly as one of the Chairs of Sodbury Chamber, Rich supports local businesses through promotions such as the annual calendars and the Sodbury Searches - at least that's his excuse for carrying cuddly toys around town!
If you'd like to get in touch with Rich, click below to visit his website or check out his facebook page.
Tel: 07768 033097
www.richmcd.co.uk
Email: