Sodbury Chamber of Commerce
Next event
Thursday 28th February 2019
5pm: Sodbury Chamber Meeting
4:30pm for 5pm start at The Coffee Bean, Chipping Sodbury
Agenda Items will include...
Welcome New members and New businesses in town
Sodbury In Bloom Easter Trail
Festival Window Competition
Chamber Sodbury Summer Search - Theme Ideas
Chamber Summer Networking Event
Clock Tower Toilet/Cant Wait Scheme/Community Toilets Update
Parking Update
Cash Machine Update
Next meeting date and location.
If you're thinking of joining the Chamber please do come along and say hello.

---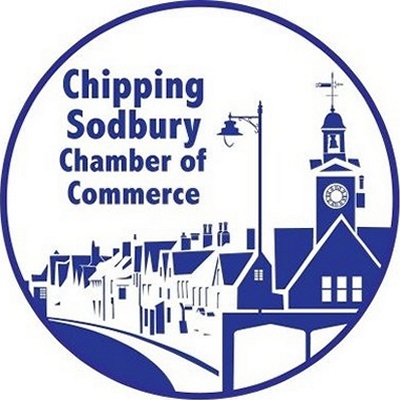 Join The Chamber
Sodbury Chamber of Commerce welcomes all Sodbury based businesses large or small.
If you would like to join please contact admin@sodburychamber.co.uk, complete the joining form on the Sodbury Chamber website, www.sodburychamber.co.uk or write to Sodbury Chamber of Commerce, 96 Bennetts Court, Yate, Bristol, South Glos BS37 4XT.
Click here to complete the membership application form - membership costs £30 per year.
Details of the next Chamber events, including dates, times and locations of meetings, will show on this page as soon as they are available.
Find out more at www.sodburychamber.co.uk, www.facebook.com/visitchippingsodbury or twitter.com/sodburyinfo.
The majority of photographs on this page are kindly supplied by RichMcD Photography.


Latest Chamber News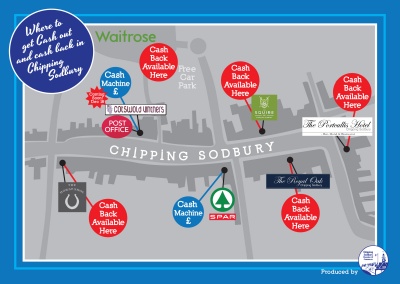 Cash Back and Cash Machines Town Map
In a bid to help visitors to Chipping Sodbury find locations that do Cash Back or have Internal Cash Machines, the Chipping Sodbury Chamber of Commerce has published a helpful map showing where you can get cash.
With the help of Cllr Rob Creer and Sodbury Town Council you will find the map posted in the notice board by the Tourist Information Centre, and in many of the retailers in town.
We hope to update this as more locations provide this facility.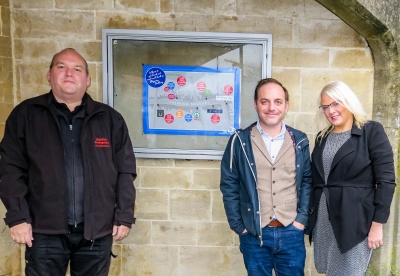 Andrew Webb (joint Chamber Chair along with Michelle and Rich) said: "We hope this map will help ease the problems visitors are having getting cash when they visit the town since the Banks withdrew all of their machines. However we will continue to work to get a 24hr access machine installed back into the town."
Pictured are Rich McD, Rob Creer and Michelle Baden-Daintree.
Click here to download a .pdf of the map.


2019 Calendar Now Released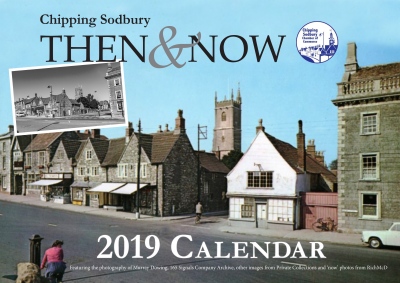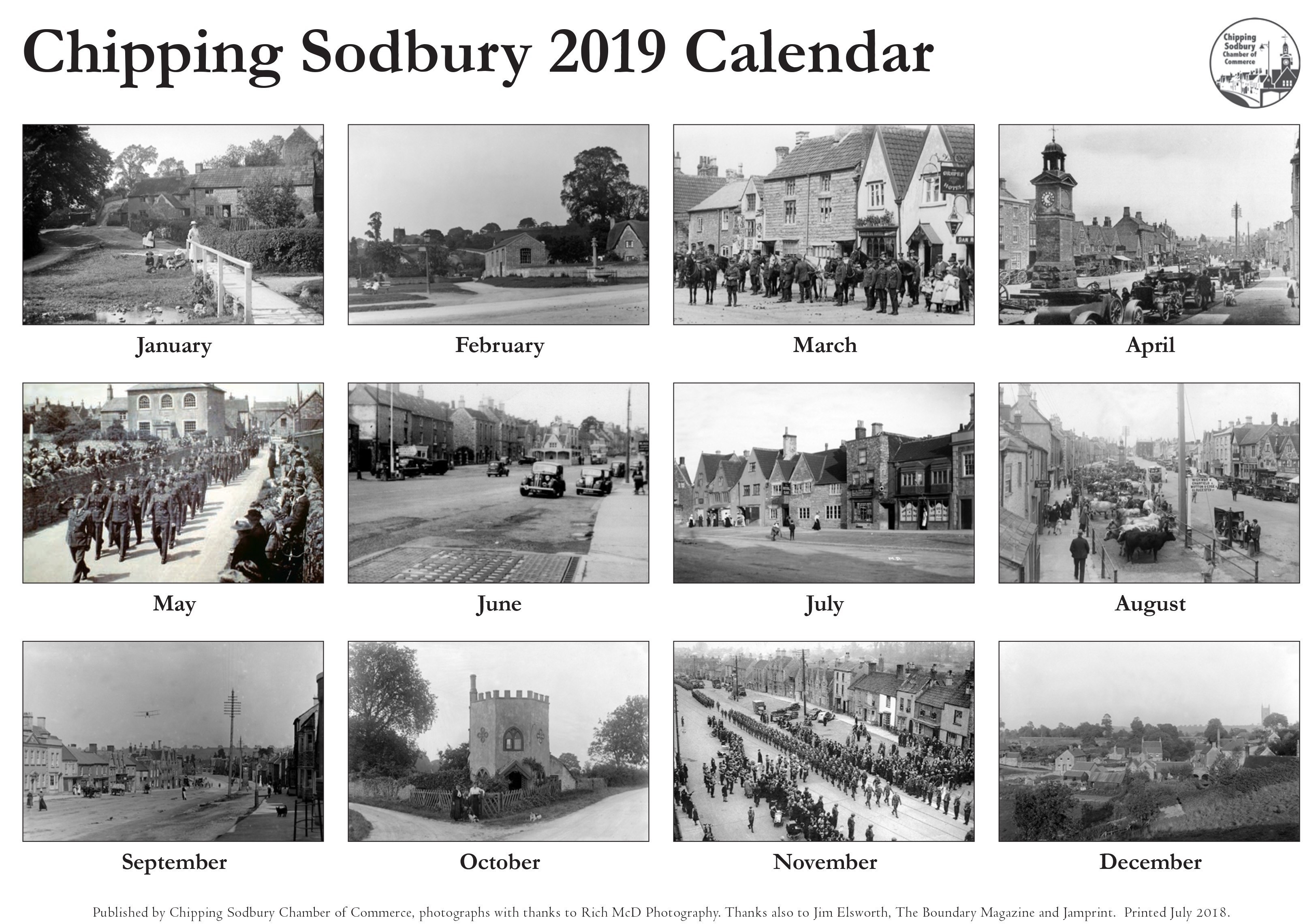 Chipping Sodbury Chamber of Commerce is proud to announce the Launch of the 2019 Calendar, going back to our favourite "Then and Now" format.
It's available from the Tourist Information Centre at a cost of £6.50 each, or two for £12. Other outlets in the town will be stocking it on the run up to Christmas.
The Calendar contains "Then" photos from Murray Dowding, 165 Signals Company Archive and other images from private collections with the "Now" from local photographer Rich McD. The descriptions for each page are by local historian Jim Elsworth.
Rich McD says "I had great fun this year working with Jim, choosing photos with lots of people in and historical importance, then trying to work out where they were taken from, we really hope everyone will enjoy the Calendar".
Funds raised by the Calendar are put back into the Chamber for the good of the town.
We would like to thank all our calendar sponsors and Ange from the Boundary magazine without whom the calendar would not be possible.


3 New Chamber Chairs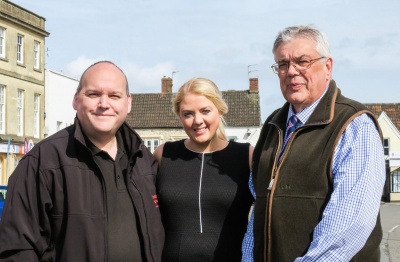 A new team has stepped up to run the Chipping Sodbury Chamber of Commerce for 2018.
The new management team consisting of three Executive members, local business man Andrew Webb of Webb Associates, renowned local Photographer Rich McD and private client lawyer Michelle Baden-Daintree from Simpson Solicitors have been elected by fellow members to run the chamber in the year that will see the first ever Gromit stationed in the town.
Andrew, Rich and Michelle share a vision to bring the local community of business owners together to capitalise on the expected trade and footfall for the market town during the coming year. They will rely on support from current active chamber members including Jo Cox who remains heavily involved with the Gromit, having recently stepped down formally as chair.
Michelle says "I am really excited to be working closely with Andrew and Rich over the next twelve months we have lots of plans to raise the profile of the town and are delighted to be spearheading the campaign whereby local businesses, organisations and individuals from the community have all come together to contribute towards securing the town's first Gromit".
The Chamber of Commerce can be an excellent platform on which to base your efforts to reach potential new clients and find new business leads. In addition to new leads you can hope to benefit from perks and benefits. If you are interested in joining the chamber then please email admin@sodburychamber.co.uk.


About The Chamber
Chipping Sodbury Chamber of Trade – supporting local businesses and working together to create a thriving town and sought after business location.
How can the Chamber help my business?
Support - You will receive up-to-date information on relevant issues, networking opportunities and the chance to attend regular workshops, social events and presentations to help grow your business.
Promotion - You will benefit from free Chamber publicity including a successful social media presence, event promotion and your own feature page on the Sodbury Chamber website.
Strength in numbers - Alongside other local businesses, you can take part in high profile Chamber initiatives and events to achieve a positive impact on the local community.
A voice - Have your views heard and taken into account when the Chamber represents the business community.
Inspiration - Share experiences, receive encouragement and get sound advice to give your business the best possible chance of success.
Every successful business makes Sodbury stronger.



Forthcoming events
Thursday 28th February 2019