Sodbury Chamber of Commerce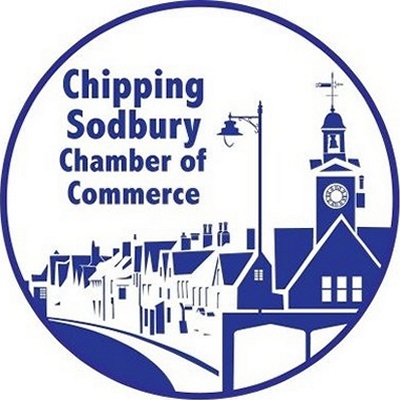 Join The Chamber
Sodbury Chamber of Commerce welcomes all Sodbury based businesses large or small.
If you would like to join please contact admin@sodburychamber.co.uk, complete the joining form on the Sodbury Chamber website, www.sodburychamber.co.uk or write to Sodbury Chamber of Commerce, 96 Bennetts Court, Yate, Bristol, South Glos BS37 4XT.
Click here to complete the membership application form - membership costs £30 per year.
Details of the next Chamber events, including dates, times and locations of meetings, will show on this page as soon as they are available.
Find out more at www.sodburychamber.co.uk, www.facebook.com/visitchippingsodbury or twitter.com/sodburyinfo.
The majority of photographs on this page are kindly supplied by RichMcD Photography.


Latest Chamber News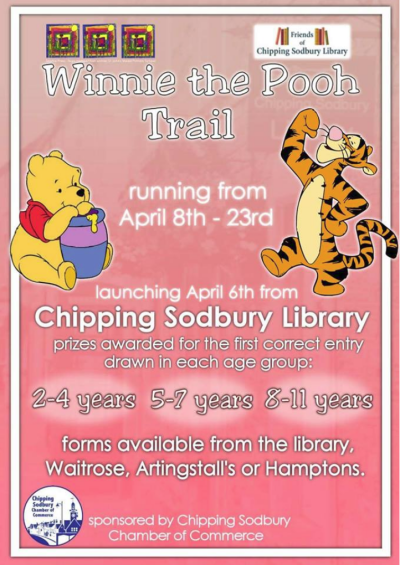 Winnie the Pooh Trail
The popular Easter Trail organised by the Library and Sodbury in Bloom will be taking place from the 8th to the 23rd April.
This year it will feature Winnie the Pooh and his companions.
The trail is free and there will be prizes awarded for the first correct entry drawn in each of the following age groups: 2-4, 5-7 and 8-11 years.
Click here to download a trail map, or collect one from the library, Waitrose, Hampton's and Artingstalls.


Cash Back and Cash Machines Town Map
In a bid to help visitors to Chipping Sodbury find locations that do Cash Back or have Internal Cash Machines, the Chipping Sodbury Chamber of Commerce has published a helpful map showing where you can get cash.
With the help of Rob Creer and Sodbury Town Council you will find the map posted in the notice board by the Tourist Information Centre, and in many of the retailers in town.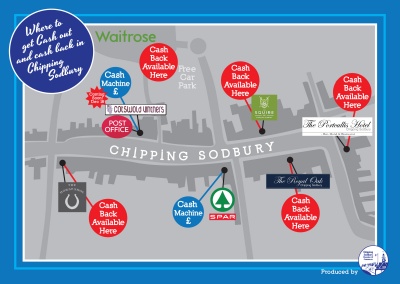 We hope to update this as more locations provide this facility.
Andrew Webb (joint Chamber Chair along with Michelle and Rich) said: "We hope this map will help ease the problems visitors are having getting cash when they visit the town since the Banks withdrew all of their machines. However we will continue to work to get a 24hr access machine installed back into the town."
Pictured are Rich McD, Rob Creer and Michelle Baden-Daintree.
Click here to download a copy of the map.


About The Chamber
Chipping Sodbury Chamber of Trade – supporting local businesses and working together to create a thriving town and sought after business location.
How can the Chamber help my business?
Support - You will receive up-to-date information on relevant issues, networking opportunities and the chance to attend regular workshops, social events and presentations to help grow your business.
Promotion - You will benefit from free Chamber publicity including a successful social media presence, event promotion and your own feature page on the Sodbury Chamber website.
Strength in numbers - Alongside other local businesses, you can take part in high profile Chamber initiatives and events to achieve a positive impact on the local community.
A voice - Have your views heard and taken into account when the Chamber represents the business community.
Inspiration - Share experiences, receive encouragement and get sound advice to give your business the best possible chance of success.
Every successful business makes Sodbury stronger.