Sodbury Chamber of Commerce
Next event
Wednesday 11th December 2019
7pm: Networking Christmas Party
The Stables Restaurant, Chipping Sodbury
7-10.30pm
Join us for an evening of fun and music as well as the opportunity to network with local businesses and sample the excellent food on offer at The Stables Restaurant in Chipping Sodbury.
This year we are teaming up with the Chipping Sodbury Chamber of Commerce to offer you the opportunity to meet and mingle with other local businesses at our Christmas Networking Event.
Tickets include a glass of mulled wine on arrival and a cheese and charcuterie buffet style board with bread. Vegetarian options will also be available.
We would like to thank local businesses Clever HR and Cotton Wealth Management for sponsoring and subsidising this event so that we can offer you great value.

www.eventbrite.com/e/christmas-ne...
Email:

---
Join The Chamber
Sodbury Chamber of Commerce welcomes all Sodbury based businesses large or small.
If you would like to join please contact admin@sodburychamber.co.uk, complete the joining form on the Sodbury Chamber website, www.sodburychamber.co.uk or write to Sodbury Chamber of Commerce, 96 Bennetts Court, Yate, Bristol, South Glos BS37 4XT.
Click here to complete the membership application form - membership costs £30 per year.
Details of the next Chamber events, including dates, times and locations of meetings, will show on this page as soon as they are available.
Find out more at www.sodburychamber.co.uk, www.facebook.com/visitchippingsodbury or twitter.com/sodburyinfo.
The photographs on this page are kindly supplied by RichMcD Photography.


Latest Chamber News
2020 Chipping Sodbury Calendar
Chipping Sodbury Chamber of Commerce is proud to announce the Launch of the 2020 Calendar, returning again to our favourite "Then and Now" format for another year.
Available initially from the Tourist Information Centre, £6.50 each or two for £12. Other outlets in the town will be stocking it on the run up to Christmas.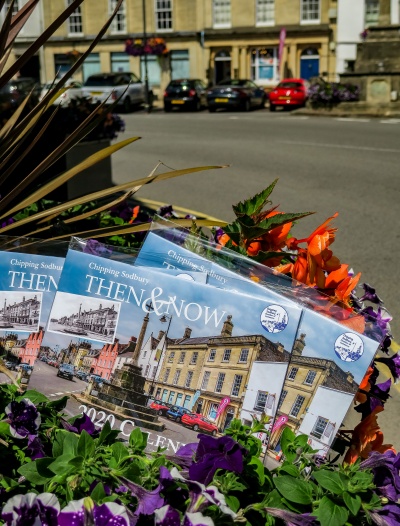 The Calendar contains "Then" photos from Murray Dowding and other images from private collections with the "Now" from local photographer Rich McD. The descriptions for each page are by local historian Jim Elsworth.
This year we've gone a little wider than the High St, for example JULY... Old Sodbury, On the hill top. Soldiers of E Company, 5th Battalion, Loyal North Lancs Regiment take a restful approach to guarding the Old Sodbury Railway Ventilation Shaft in 1914. Who knows what the soldiers later endured during World War One after they left Sodbury to fight in France?
Rich McD says "Working with Jim is a great honour, choosing images with the most meaning. I must also thank all our sponsors whom without their support the Calendar would not be possible and the team who help put the calendar together."
We really hope everyone will enjoy the Calendar, funds raised by the Calendar are put back into the Chamber for the good of the town.
The photos, kindly supplied by RichMcD Photography show the calendars with the scene behind from the front cover, plus the full front cover and the July page.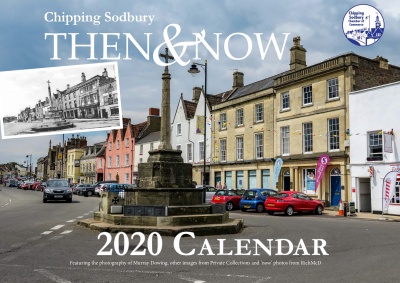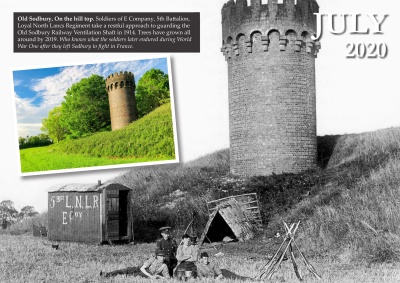 More Free Parking in Chipping Sodbury
Visitors to Chipping Sodbury should find there's more free parking available when driving in to the town.
This is because Chipping Sodbury Chamber of Commerce has launched a 'Park & Walk' initiative, encouraging the business people of Chipping Sodbury to park at the Ridings Rugby and Football Club Monday to Friday, rather than using up invaluable limited parking spaces in the High Street or Town Car Park.
In-conjunction with Coffee Howes, Toll House Clinic, The Health Food shop and 29 Design... free coffees and the occasional hot chocolate were handed out in eco-friendly branded reusable mugs to over a dozen business people who embraced the scheme between 8am and 10am on its launch day in July 2019, and again in September.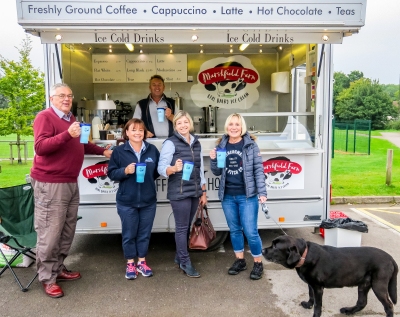 Andrew Webb (one of the Chamber Chairs) said: "We enjoyed meeting everyone this morning and now that people have seen how it really is a pleasant stroll into town, with added health benefits, we hope people will be inspired to continue to use the Ridings Car Park.
Regular commitment from people willing to Park & Walk and the ongoing generosity of the Chipping Sodbury Town Trust offering the car park for free for workers in the High Street will helpfully encourage more visitors with better parking facilities."
Pictured above are Chloe Knight and Georgie Causon from Simpson Solicitors with their new Toll House/Chamber of Commerce eco Mugs and the amazing Mobile Coffee Pod from Coffee Howes.


Cash Back and Cash Machines Town Map
To help visitors to Chipping Sodbury find locations that do Cash Back or have Internal Cash Machines, the Chipping Sodbury Chamber of Commerce has published a helpful map showing where you can get cash.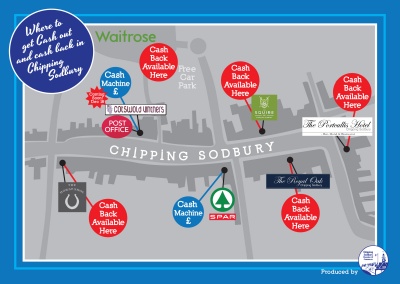 With the help of Rob Creer and Sodbury Town Council you will find the map posted in the notice board by the Tourist Information Centre, and in many of the retailers in town.
We hope to update this as more locations provide this facility.
Andrew Webb (joint Chamber Chair along with Michelle and Rich) said: "We hope this map will help ease the problems visitors are having getting cash when they visit the town since the Banks withdrew all of their machines. However we will continue to work to get a 24hr access machine installed back into the town."
Click here to download a copy of the map.


About The Chamber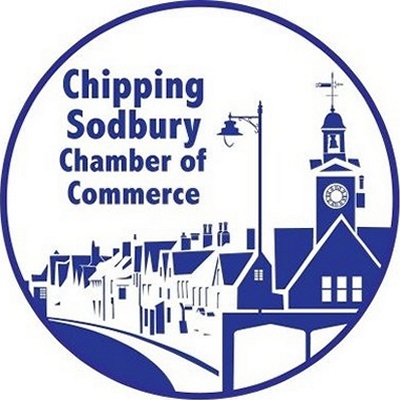 Chipping Sodbury Chamber of Trade – supporting local businesses and working together to create a thriving town and sought after business location.
How can the Chamber help my business?
Support - You will receive up-to-date information on relevant issues, networking opportunities and the chance to attend regular workshops, social events and presentations to help grow your business.
Promotion - You will benefit from free Chamber publicity including a successful social media presence, event promotion and your own feature page on the Sodbury Chamber website.
Strength in numbers - Alongside other local businesses, you can take part in high profile Chamber initiatives and events to achieve a positive impact on the local community.
A voice - Have your views heard and taken into account when the Chamber represents the business community.
Inspiration - Share experiences, receive encouragement and get sound advice to give your business the best possible chance of success.
Every successful business makes Sodbury stronger.



Forthcoming events
Wednesday 11th December 2019